The automotive industry is one of the most important economic sectors by revenue. Manufacturing the most complex mass-produced engineered products in the world, this industry utilizes several special processes and electronic technologies.
SICGILSOL offers technological solutions for the automotive industry, developed by collaborating closely with customers. The gas applications & technologies proposed are high-tech solutions to get the most effective and reliable process according to customer's requirements, in order to meet their specific challenges.
Shipyards are intensive and large utilizers of technical gas, welding equipment and welding services where SICGILSOL supplies in-place and easy-to-use compressed and cryogenic gas and welding related activities. SICGILSOL aims to propose the best and most reliable support to customer activity with its Total Gas Management solutions.
Welding and Cutting Gas Systems:
This is a complete line of welding and cutting gas and gas mixing systems specifically studied and produced for metals and alloys cutting and welding.
Supplied in bundles and cylinders, these solutions include the UNICA system, a ready-to use Enermix cylinder with integrated pressure reduction valve. Best performance in welding & cutting both for MIG/ TIG (Enermix) and Laser applications (LaserSOL)is achieved by:
Improving quality
Reducing overall costs of the process
Creating the ideal environment for the weld pool to obtain the best conditions of work.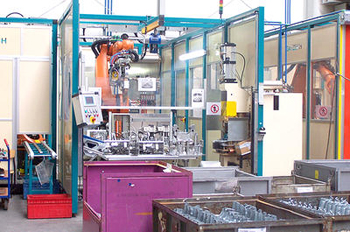 Welding and Cutting Equipments:
TecnoSOL is the solution from SOL aiming at supply of welding and cutting equipments, gas distribution lines, gas mixers, pressure reduces, flow meters and special robotic equipments. This ensures optimum working conditions for customers and their operators.
Some of the uses of TecnoSOL are:
Metallurgical composition of the umbilical,
fluidity and working speed,
shape and depth of penetration,
arc stability, and,
reduction of spray and fumes.
Electronic Soldering Applications :
InerSOL, a package of services and technologies for electronics soldering is based on technical gases for inerting wave soldering machines and reflow ovens. Diffusion of inert gas is done through a sprinkler system, which is controlled by a control panel providing the correct operating parameters in terms of gas pressure, flow rate and purity. Each sprinkling system is designed and manufactured according to the specific requirements of customers.
The offer includes consulting service and technological support for metallurgical investigation of soldering and failure analysis provided by our qualified and certified laboratories
Thermal treatment Gas Solutions:
SOLMix is a patented on-site production process for the supply of a thermal treatment gaseous mixture for inerting/reducing/carburizing purposes during heat treatment of material.
Depending of customer needs, gas content and mixture can be sharply adjusted based on the kind of the treatment performed by the customer. An automatic control system assures an atmosphere with constant and controlled composition at the needed carbon potential, providing a high flexibility - low costs gas production system.
Waste Water Treatment:
This is a specialized, easy-to-install application dedicated to increasing dissolved oxygen content in the waste water basins. This application involves injection of oxygen in the basins using ECOJET equipment.
ECOJET increases the dissolved oxygen content in the water enhancing the microbial activities and increasing the efficiency of the ETP plants.