Oil & gas companies, focusing efforts on their activity, can benefit from a partnership with SICGILSOL having a solution provider company facing and solving all gas related needs.
From a simple pressure reducer, cylinders storage and distribution line or gas mixers, carrying on with liquid gas storages, evaporators and large distribution network, up to cooling or inerting applications, including equipment and complete surveillance of operations, our technicians can help customers to solve technical gas requests and to supply turn-key gas production plants for every need.
Main applications and technologies:
Onsite Production Solutions:
Our complete line of Onsite Systems to manufacture Nitrogen (NitroSOL), Oxygen (OxySOL) and Hydrogen (HydroSOL) at the customer site, by using several production technologies like a membrane, PSA, SMR/Paox processes, are an effective choice to make available gas at the suitable flow, purity and pressure.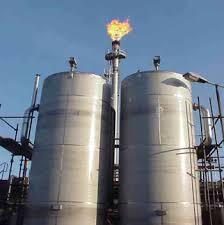 Along with the onsite Solution, we also provide traditional supply modes to have a second source of supply and a back-up for the onsite solution.
Condensation of volatile gases:
Before being used as an inert gas, nitrogen supplied in the liquid phase can be used to quickly cool down vapor streams in order to condensate volatile compounds that can be recovered and stored in a liquid form for reuse.
SOL can supply a complete technology package(RecSOLv) including effluents analysis, process design, plant realization by collaborating with the client for implementation of the technology
OxyCombustion Solutions:
Claus process can be boosted to increase sulphur recovery by using an over-oxygenation of air. Our SOLmet technology can help refineries to produce, to store and to use oxygen for this application.
Ecojet and Ozone for environmental applications and waste treatments; O3 with its very strong oxidizing power, to be produced on-site from molecular oxygen with the action of a strong electric field, can be supplied by SOL's plant and technology for effective and cost-saving sour water treatment.
SOL's new-technology team support our customer, evaluating the characteristics of the power plant to design, to engineer and to install the best solution for using, controlling and distributing gas inside customer plant.
Included in Sol's services :
Monitoring, controlling and checking of liquid and compressed gas inside storages.
Technological support to select appropriate gas and gas mixture.
Technological support to design, install, maintain up-to-date equipment and distribution lines.
Detailed analysis and support during plant processing.
Training course on gas characteristics and utilization.