SICGILSOL has been developing technologies for environmental protection and remediation for several years, and our applications are operating in many plants. This experience is continuously integrated by new applications coming from research programs through new solutions which are tested on the pilot and real size plants. The know-how concerning wastewater and solid treatments, air pollution control, soil remediation, river and lake pollution mitigation or remediation, involves both processes and plant design, and includes patents regarding innovative equipment and processes many of which are successfully installed at customer's sites.
Main fields involved in this research program are the following: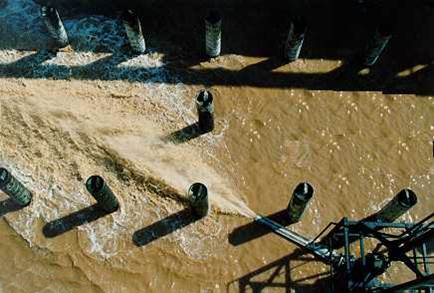 Water Treatment Solutions:
ECOJET® is one of most recent patents of SOL for Water Treatment applications: it represents the last generation of oxygen transfer units, where the conception of each part has been analyzed in order to provide best efficiencies, lowest running costs and optimized performances and compact size.
Revamping of biological basins with pure oxygen (O2);
Water refining with ozone (O3);
Sludge reduction and oxidation;
Removal of bad odours;
Neutralization of alkaline waters with CO2;
Landfill leachate and special liquid wastes treatment;
Rivers, lagoons and lakes oxygenation.
Oxypower for solid treatments
Incineration and waste-to-energy plant.
Optimization of post-combustion for waste thermal valorization.
Optimization of composting processes.
RecSOLv and Ozone Technology for gaseous emission treatments
Recovery of VOC and solvents from emissions;
Treatment/remediation of contaminated soils.