Centralized Industrial & Medical Gas Pipeline System
A typical Industrial & Medical Gas Management System will consist of the following elements:
Gas Supply Source
Oxygen/Nitrogen/Argon/Speciality Gases / Mixture Gases/ Medical Air and Nitrous Oxide can be supplied from high-pressure gas cylinders or storage tanks. In large installations, Medical Oxygen and Nitrogen can also be generated on-site. Aspects such as safety, statutory regulations and noise pollution are to be considered and adequately provided for.
Distribution System
Suitable pipeline distribution system should be designed so that the Medical Gases and Vacuum are delivered in a clean, safe and reliable manner at all points of usage. Optimizing the design to take care of pressure-drops and flow rates, future expansion and accessibility for maintenance are important design considerations.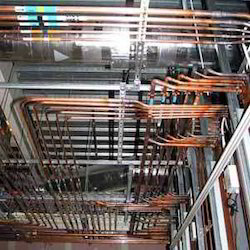 Delivery Mechanisms
Selection of the Medical Gas pipeline outlets at the point of usage taking into consideration design, cost, availability etc., is done by the detailed discussion with the hospital authorities. SICGILSOL provides a variety of options for Gas outlets, pendants etc., to meet individual requirements & budgets.
Monitoring and Control Systems
Designing a suitable monitoring and control system with strategically placed, measuring instruments and alarms are crucial for the effective working of the pipeline distribution system. SICGILSOL provides a variety of visual and audio signals so that even remote locations can be monitored from a central location. Automatic changeover systems for high-pressure gas manifolds provide the necessary safety to ensure continuity of supply on 24 hours basis.
Liquid Oxygen /argon/nitrogen /storage
SICGILSOL are the leaders in supplying Vacuum Insulated Cryogenic Storage Tanks in association with leading Cryogenic Tank manufacturers. Cryogenic Liquid Storage systems eliminate the need for high-pressure cylinder handling and allow for large volume storage. SICGILSOL will install the Storage Tanks along with Vaporizers, Pressure Regulators and Pipeline systems for such facilities. SICGILSOL will guide and ensure that all applicable statutory regulations and codes are met for the installations.
Medical Gas Manifolds
SICGILSOL will design and supply gas manifold systems using high-pressure cylinders or liquid cylinders to meet the capacity requirements of the hospital. Suitable duplex systems to ensure automatic/semi-automatic switching to the second cylinder facility or reserve supply can be offered. SICGILSOL control panels have visual and audio alarm systems to signal low pressure and empty cylinder conditions.
Gas specific manifolds are designed to prevent inadvertent connection of an incorrect type of gas cylinder to the manifold. The manifold supply system comes with a manifold control panel and an emergency supply manifold.
A range of sizes/capacities are available and are supplied as complete systems with all components necessary for installation and operation. Non-return valves are located in the Manifold Header at each cylinder location