SICGILSOL- Healthcare is committed to quality care and patient safety, supported by pharmaceutical and medical device regulations and standards, from the selection of raw materials through production till the administration of the medical gases.
We support you in every aspect of the delivery and use of medical gases, including the best technology and safety solutions, comprehensive training and associated medical gas services. To meet the overall requirements of the healthcare sector we also hold a specials license to enable us to supply any gas specifically requested by a healthcare professional.
Liquid Medical Oxygen
Virtually every hospital needs bulk supplies of oxygen and the most economical way to hold a large quantity is in a liquid form.
Significant advances in the therapeutic uses of medical gases have resulted in increased medical gas usage for a number of diverse clinical applications. Hospitals generally have large annual consumption levels of oxygen so the bulk liquid is a very cost-effective and convenient supply option.
Oxygen liquefies at -183°C and to keep it this cold a specific type of container is needed.
SICGILSOL- Healthcare can supply liquid oxygen containers of suitable capacity to match the demands of any healthcare establishment in accordance with the requirements and recommendations of HTM 02-01. This equipment includes:
Storage vessels
Vaporisers
Control/monitoring panels
Telemetry
All necessary piping to the termination point and connection to the hospital's Medical Gas Pipeline System (MGPS)
Product quality assurance
SICGILSOL -treats product quality seriously, because we understand the impact it could have for your patients. Our products are produced under Good Manufacturing Practice (GMP) and are classified as a medicinal product. We, therefore, ensure that our production plants are continuously monitored, our product is analyzed before it reaches the storage vessels and is tested again before we leave an installation.
Dura Cylinder
SICGILSOL dura cylinders are our answer to meet the oxygen requirement of the medium hospital where the volume requires a frequent cylinder changeover and there is a lack of space for inventory. SICGILSOL dura cylinders are, in fact, state of art portable cryogenic cylinder that combines the advantage of cryogenic and cylinder supplies as one SICGILSOL dura cylinder is approximately equivalent to 20 bulk type cylinders.
Compressed Medical Oxygen
Medical oxygen is widely used in every healthcare setting, with applications from anesthesia to inhalation therapy.
SICGILSOL is supplying 200 Bar Pressure cylinder for reducing the inventory and the number of cylinders.
Medical Nitrous Oxide
Medical Nitrous Oxide is a liquefied medicinal gas, supplied in cylinders filled to a high pressure.
Medical Nitrous Oxide is used for:
Anaesthesia
Pain relief
Inflating the abdominal cavities during a laparoscopy (an investigative operation)
As a refrigerant in cryosurgery (a treatment using extreme cold to remove warts/verrucas)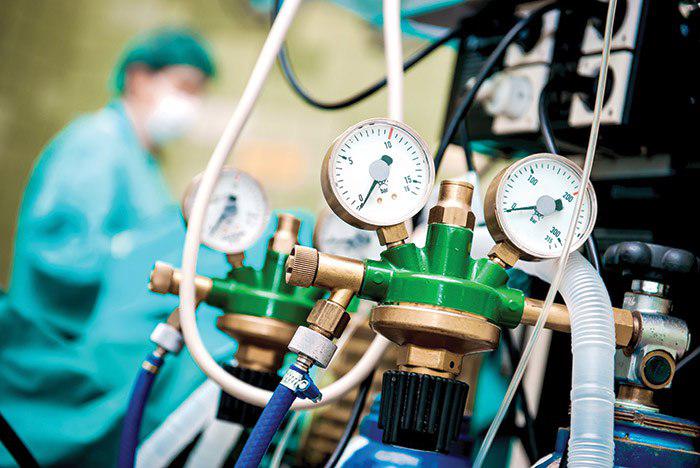 The colour coding of the shoulder of Medical Nitrous Oxide cylinders is blue. The body is colour coded white. For a limited period, cylinders may have a blue body.
Carbon Dioxide
Carbon dioxide is commonly used as an insufflation gas for minimally invasive surgery (laparoscopy, endoscopy, and arthroscopy) to enlarge and stabilize body cavities to provide better visibility of the surgical area.
Liquid Nitrogen
Medical liquid nitrogen can be used for the storage of biological material, such as cells, tissues, blood, gametes at cryogenic temperatures, for subsequent medical procedures and analysis. Liquid nitrogen is a refrigerated liquefied gas with a boiling point of -196° C
Gas Mixture
SICGILSOL offers gas mixtures are received by mixing of initial pure gases in required proportion. There are more than 25 types of two-component and multicomponent gas mixtures on the basis of oxygen, nitrogen, helium, Carbon Dioxide and Carbon Monoxide. The range of component fraction in mixture 1% …99,0%. Composition, concentration, limit of allowance, cylinder requirements are defined additionally.
Example: CO2: O2: N2
This gas mixture is specified by bench top incubator manufacturers as a blanketing gas for use during the IVF process. The inert environment is critical during the fertilization/incubation stage of in the IVF process. The specific gas mixture replicates the environment within the womb.