As part of the solutions package for the Steel Industries, SicgilSol can support our customers in multiple ways. These solutions can be broadly classified under the following headers:
Supply of Gases
Being a manufacturer of industrial gases, SicgilSol can meet the gas requirements of our steel customers in various ways, by supplying the gases in various modes as explained here.
Steel Melting Applications:
With the technology tie-up with Miwenti, SicgilSol can assist the steel customers by innovating their steel melting technologies to optimize the time and consumption of electricity and oxygen.
By replacing the oxygen, carbon and lime delivery systems in the electric arc furnaces, we help our customers to meet their production requirements faster and in a very economical method.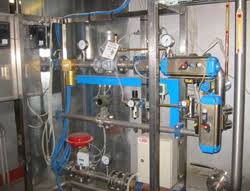 Spare Parts:
SicgilSol also is also a trading partner for Miwenti in the business of copper cast spare parts that are used in the Steel industries, for eg, blast furnace tuyeres, BOF lance tips, induction rings etc. With their in-house copper casting expertise (TeknoBTM), Miwenti supplies superior parts which withstand higher exposure to heat thus decreasing the number of replacements required.